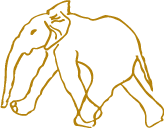 Amboseli
The Amboseli ecosystem is unique: No other place in Africa combines its special hydrology, topography, geological and cultural history.
Despite modest rainfall, a system of swamps fed by the Kilimanjaro mountain forest catchment supports a spectacular array of birds and mammals, dominated in terms of biomass and visibility by a population of some 1,500 African elephants.
Overlaid on the transboundary (Kenya and Tanzania) landscape is a traditional system of nomadic pastoralism practiced by the Maasai people, whose faith and pride in their own culture is impressively steadfast in the face of rapid social and economic development.
This cultural identity has ensured Amboseli remains largely unfenced and undeveloped, and hence the wildlife continues to move across the 8,000 square kilometres in response to rainfall and food availability. Amboseli National Park lies at the heart of this ecosystem, covering just 392 square kilometres but containing the vital life-supporting swamps.
In recognition of Amboseli's special combination of ecology and culture, UNESCO and the Government of Kenya designated the region a Man and the Biosphere Reserve in 1991 to conserve its biodiversity, contribute to the development of the local human population, and improve the local infrastructure in support of education and research.
We are proud to work with a number of partner NGOs in the ecosystem, and with the Kenya Wildlife Service, keeping Amboseli safe for wildlife for generations to come.