THE AMBOSELI ELEPHANTS: A LONG-TERM PERSPECTIVE ON A LONG-LIVED MAMMAL
Eleven years in the writing and collecting together the results of more than three decades of research, this book is our proudest achievement in the project to date.
"The Amboseli Elephants" is the long-awaited summation of what's been learned from the Amboseli Elephant Research Project (AERP) – the longest continuously running elephant research project in the world. Cynthia J. Moss and Harvey Croze, the founders of the AERP, and Phyllis C. Lee, who has been closely involved with the project since 1982, compile more than three decades of uninterrupted study of over 2,500 individual elephants, from newborn calves to adult bulls to old matriarchs in their sixties. Chapters explore such topics as elephant ecosystems, genetics, communication, social behavior, and reproduction, as well as exciting new developments from the study of elephant minds and cognition. The book closes with a view to the future, making important arguments for the ethical treatment of elephants and suggestions to aid in their conservation.
ELEPHANT MEMORIES: THIRTEEN YEARS IN THE LIFE OF AN ELEPHANT FAMILY
At the time of writing, Cynthia Moss had studied the elephants in Kenya's Amboseli National Park for over twenty-seven years. This book chronicles the lives of the members of the T families led by matriarchs Teresia, Slit Ear, Torn Ear, Tania, and Tuskless.
"One is soon swept away by this 'Babar' for adults. By the end, one even begins to feel an aversion for people. One wants to curse human civilization and cry out, 'Now God stand up for the elephants!'"—Christopher Lehmann-Haupt, New York Times
"Moss speaks to the general reader, with charm as well as scientific authority. . . . [An] elegantly written and ingeniously structured account." —Raymond Sokolov, Wall Street Journal
"Moss tells the story in a style so conversational . . . that I felt like a privileged visitor riding beside her in her rickety Land-Rover as she showed me around the park." —Sarah Blaffer Hrdy, New York Times Book Review
"A prose-poem celebrating a species from which we could learn some moral as well as zoological lessons." —Chicago Tribune
"A prose-poem celebrating a species from which we could learn some moral as well as zoological lessons." —Chicago Tribune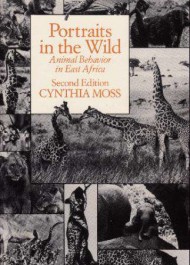 PORTRAITS IN THE WILD: ANIMAL BEHAVIOR IN EAST AFRICA
Cynthia's first book is a vivid synthesis of the study of animal behaviour in East Africa. Each chapter is devoted to one species or group of species, and describes the research carried out on those animals, and the scientists themselves. As well as elephants (of course) the book covers giraffes, black rhinos, zebras, antelopes, baboons, big cats and hyenas.
ECHO OF THE ELEPHANTS: THE STORY OF AN ELEPHANT FAMILY
A photographic and textual record of eighteen months in the lives of the EB family, to accompany the BBC film.