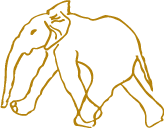 FAQs
A: We are sorry but for both legal and logistical reasons we don't take volunteers at ATE. There are a number of great organisations here in Kenya that do take volunteers so please look for them online; we can't advise on the current state of these programmes. There are also many things you can do to help nature and animals wherever you live in the world. You can make a positive change by volunteering to get some experience locally. You can also help us by fundraising and sending us your donations, or by educating the people around you on the plight of elephants.
A: We are a very small organisations and job openings very seldom come up. If you are a Kenyan citizen who is passionate about working with elephants then please send us your CV by email to info@elephanttrust.org so we can keep it on file. For non-Kenyan citizens please note that we would only consider job opportunities if your skillset cannot be found in Kenya.
Q: Can I come visit the research camp if I am in Amboseli?
A: The research camp is our workplace as well as our home and it is not open to the public for drop-in visits: we simply cannot accommodate casual visitors when we are trying to complete our research, outreach, and conservation work. We do offer a limited number of lecture appointments that need to be arranged in advance with our Nairobi office, for which we charge a donation fee. Lectures are normally booked at least a week in advance, and fit around our other work commitments. During a lecture you will meet one of our researchers for an interactive talk that usually lasts about an hour, covering our research, project history, and elephant behaviour.
For more information on lectures please contact Sylvea Nyambura from our Nairobi office on info@elephanttrust.org
Q: To save the species, why don't you cut their tusks off?
A: We often get asked this well-meaning question; we have a statement on this topic on our ADVOCACY section. ( click here ) Please note that there is also a hoax going around about dyeing tusks to deter poachers. This is not a viable solution for many of the same reasons we cannot cut off tusks to stop poaching.