AMBOSELI ELEPHANTS ON YOUTUBE
We make short films about the community, our education schemes, special events, the team and of course the elephants. Keep up to date with what's going on in the field by subscribing to our channel on YouTube. Click here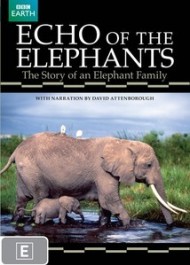 ECHO OF THE ELEPHANTS
In January 1990, Cynthia and Martyn embarked on the first of what would ultimately be four exceptional films produced over thirteen years in the shadow of the Great White Mountain, Kilimanjaro, documenting the lives of one elephant family for the BBC's Natural History Unit. These uniquely moving and unforgettable films have wider implications for our understanding of elephants everywhere.
Echo became one of the most famous elephants in the world, capturing hearts across the globe with her gentle leadership of the EBs. Watched over by Cynthia Moss, Echo leads her charge through the rough and the smooth, good times and bad, all captured faithfully on film by award-winning photographer Martyn Colbeck.
Buy from ABC. This box set contains all four films – Echo of the Elephants, Echo of the Elephants: The Next Generation, Echo, Ely and Friends: Africa's Forgotten Elephants, Echo of the Elephants: The Final Chapter?
ECHO: AN ELEPHANT TO REMEMBER
Echo's death from natural causes in 2009 was a truly heartbreaking time for the ATE team. This film charts her last days, the devastating impact of her death and the subsequent recovery of the EB family.