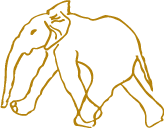 Dr Winnie Kiiru ATE Kenya Trustee
Winnie shares a long history with the Amboseli Trust for Elephants; through completing her PhD with us in Amboseli she has become both a friend and accomplished conservationist. Winnie's research focuses on human-elephant interactions and coexistence solutions and she has worked with some of Kenya's leading researchers and scientists.
Winnie first came to Amboseli in 1993, working as a Research Assistant under Dr. Joyce Poole when she was Head of the KWS Elephant Program. Over many years and many visits she began a long and fulfilling friendship with our team. In 1994-1995 Winnie studied in the University of Zimbabwe, completing an Msc in Tropical Resource Ecology with a major emphasis on community perspectives in wildlife management. She returned to Kenya for her research phase and wrote her thesis on Human-Elephant Interactions around the Shimba Hills National Reserve.
In 2005 Winnie started her PHD at the University of Kent in Canterbury; choosing to focus on Amboseli where she had developed excellent community relations and a good understanding of the area. By sheer coincidence and to her absolute delight, Professor Phyllis Lee was invited by the University of Kent to examine her thesis on human-wildlife interactions; Phyllis saw the great important of Winnie's research and had helped Winnie get through the last gruelling phase of her PHD.
Winnie shares our love for Amboseli, as it has been a place of peace for her and her family for many years. We are thrilled to have Winnie on our board of Trustees; she is clever, passionate, and strong. We respect her advice and enjoy the magnetic joyful energy she brings to the table.