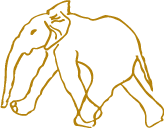 PATRICIA AWORI ATE Kenya Trustee
Patricia was born & raised in Nairobi; she holds a B.A. degree in International Relations, with a minor in the behavioral sciences. Her areas of expertise span history, literature, community wildlife conservation programs, international policy development, and wildlife conservation. Pat is Director of Pan-African Wildlife Conservation Network, and specializes in elephant behaviour and advocacy for wild species conservation. In her Directorship and advocacy role, Pat is a regular and vital attendee at international conferences such as CITES and the Convention on Biological Diversity. She also speaks at numerous conservation and environmental forums, including the Houston Museum of Natural Sciences.
Pat is a member of the East African Wildlife Society and has also helped establish influential advocacy groups such as the African Elephant Coalition and the Kenya Elephant Forum. Her advocacy efforts have contributed to various Kenyan legislations such as the latest wildlife bill. Pat's passion for folklore, ancient traditions and music means she has also dedicated a considerable amount of time to rural communities and their culture.
An avid campaigner for wildlife conservation, Pat is a valuable Trustee to ATE in Kenya and abroad. Her experience and connections in tourism promote our work as well as that of our valued colleagues and conservation partners. Her passion and dedication for elephants and wildlife, and her deft communication make her a formidable elephant ally.