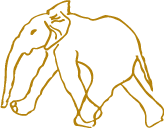 RESEARCH
ATE' has made many important contributions to elephant research over the years. The knowledge gained from our team has profoundly altered the way we think about, conserve, and manage elephant populations. Our research has highlighted the ethical implications of dealing with sentient, long-lived, intelligent and socially complex animals. Our knowledge base provides powerful and authoritative support to elephant conservation and advocacy campaigns worldwide. For almost five decades ATE's presence has helped ensure the survival of the elephants as well as the Amboseli ecosystem.
ATE research covers many areas including: social organisation, behaviour, demography, ecological dynamics, spatial analyses and mapping, communication, genetics, human-elephant interactions and cognition. Our long-term datasets underpin all these research topics.
CORE RESEARCH
Our team of Kenyan research assistants and visiting scientists are in the field every day gathering information about the elephant population; births and deaths, musth, oestrus and mating. Our routine daily observations note associations between family units and independent males, geographic location, group size, composition, activity and habitat type. Within families we monitor female affiliation and the dispersal of young males from their family to analyze family dynamics. We have systematically monitored the body size and growth of over 600 individuals from 1976 to the present. Since 1999 we have collected dung samples for genetic analyses of population origins, paternity and within- and between-family relatedness. We are constantly maintaining and updating our individual records, and we also carry out basic ecological monitoring through vegetation plots, water table measurements and rainfall.
ATE hosts visiting researchers who contribute to the growing understanding of African elephants in general, and the knowledge base for the sustained future of the Amboseli population in particular. ATE has always enjoyed a dynamic collaboration network and we welcome the opportunity for new partnerships to continue that tradition.Researchers interested in collaborating with ATE should address their enquiries to our Director of Science, Prof. Phyllis Lee (pclee@elephanttrust.org).
Our collaborations extend across many subject areas: