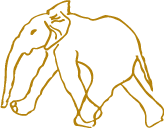 Support
We are extremely grateful to all our supporters for enabling our work and our fight for elephants in Amboseli and across the world.
All the donation methods on this page are administered under our 501c(3) organisation in the USA and are fully tax-deductible to the extent allowed by US law. We are audited in the US and in Kenya (see also below on our Legal Status).
For donors wishing to learn more, we are always happy to hear from you – please use info@elephanttrust.org  to get in touch.
Naming an Elephant
Every Amboseli elephant has a name, and for some years now we have allowed elephant naming in return for a donation. Since these names are so crucial in our research we have some rules about which names can be used and how. Although we've outlined these below, it's best to get in touch with us to discuss naming choices either through our US Executive Director Dr. Betsy Swart (eswart@elephanttrust.org) or our Kenyan office (info@elephanttrust.org). We do recommend choosing several alternatives so that we can select a calf for you; please also tell us if it matters whether your calf is male or female. When your calf has been named, we will send you a naming pack containing a photograph, a naming certificate and a history of the calf's family and mother. Naming donors can also get in touch to request updates on how their calf is doing, by contacting us on info@elephanttrust.org
Our most important rule is that no name can be repeated. Most common names have already been used, so we find nicknames or unusual spellings work well, although we will work with you to find a compromise if your chosen name has already been used. Each of the 64 Amboseli Families has a two-letter code: AA, BB, CA, DB etc. and all family members have names beginning with the first family letter. For instance, in the A families we have Astrid, Artemis, Anghared and Angelina, and in the B families Barbara, Blythe and Bryony.
We generally don't name calves until they are four years old, when they have survived the period of highest mortality risk. Before that, the calf has a code name based on the mother's name and year of birth (e.g. AST97). For the naming program we will name younger calves on the understanding that not every young elephant will grow to adulthood.
A PDF brochure on naming elephants is also available here: Download Brochure.
Donate
We use a secure online system on which you can make your donation with a credit or debit card. All donations exclusively support charities and not-for-profit organisations. Clicking on the "Donate" button will take you to our donation page where you can make your donation. You can also donate in someone's honor, choosing to send them a special message on a specific date.
For donors wishing to send a check, please use our US postal address;
Amboseli Trust for Elephants
10 State Street
Newburyport, MA 01950
U.S.A.
For those wishing to make a wire transfer, please contact our US Executive Director, Dr Betsy Swart (eswart@elephanttrust.org) for the relevant bank details.
Bequests & other forms of donations
For donors wishing to make bequests or more complex donation arrangements such as direct debit, stocks and shares, or in-kind support, please contact our US Executive Director, Dr Betsy Swart (eswart@elephanttrust.org).
Shop
Art
Karen Laurence-Rowe is one of Kenya's leading wildlife artists. Her variety of styles and subject matter give her work a wide appeal and contribute to her fast-growing success as an award-winning artist. Karen has generously donated four beautiful pencil sketches of Amboseli elephants. To order your print (sizes are 12 x 12 inches) please either download and complete an order form and return it to us at info@elephanttrust.org or email us with all the information on the form.
To download an order form, click here
Astrid & Abebe; Astrid's beautiful tail guides her newborn daughter
Abebe into the Enkongu Narok swamp in Amboseli National Park
Ebelle; Cheeky little Ebelle is Elspeth's daughter and a great favourite with the research team.
Here she is in the Ol Tukai Orok palms where the ATE research camp is based.
Flossy & Flint; Tiny newborn Flint shelters under his mother and enjoys a tender caress.
Irina; Feisty little Irina is Ipii's daughter and full of personality, often play charging the research car.
Legal Status
The Amboseli Trust for Elephants (ATE) is a not-for-profit Trust registered in Kenya and the United States of America (501c3). ATE's operational focus is in Amboseli National Park and the surrounding ecosystem.Its' influence reaches out to elephant conservation, management and policy-setting worldwide.
ATE has an administrative, fund-raising and advocacy office in the United States, a program management office in Nairobi, and a field research office and camp in Amboseli National Park. The Nairobi office provides a base for administration and project support. AERP, the Amboseli Elephant Research Project is the Trust's research arm. Since 1972 AERP has studied the Amboseli elephants, making it today one of the longest studied populations of free-living large mammals in the world.
AECT, the African Elephant Conservation Trust, is an endowment fund established in the USA. The long-term objective of AECT is to initiate, support and ensure the continuation of key elephant research projects across the African continent modelled on the ATE philosophy and research methodology. In time, income from the endowment can used to fully fund the work of ATE and AERP and enable the field researchers focus their energies on their project and relieve them of the burden of continued fundraising. AERP's unparalleled body of knowledge will thus be made available to those addressing issues such as land use, wildlife education, protected area management, and the consequences of human population expansion.