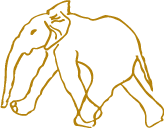 PROJECT HISTORY
In 1968, Cynthia Moss made the life-changing decision to move from her job at Newsweek Magazine in York City to study elephants in Lake Manyara, Tanzania with Iain Douglas-Hamilton. Four years later, teaming up with Harvey Croze, she found ideal conditions for studying elephants in Amboseli National Park in Southern Kenya. Almost five decades later, her work is the longest-running study of wild elephants ever undertaken; documenting the lives of more than 3,500 elephants.
In 1972 Cynthia Moss formally established the Amboseli Elephant Research Project (AERP). Since its inception; AERP has monitored Amboseli's elephants, by identifying all the elephants in the population and collecting data on births, deaths and Behavior. As a result, our work now provides a critical source of baseline data on elephants. Amboseli Trust for Elephants (ATE) was created in 2000 as a legal entity to formally enable the work of AERP. Now universally known as ATE, our project continues to carry out research and outreach activities following the Amboseli elephants over the 8000 km2 of their range.
We are entirely reliant on donations to enable our work, which requires a close relationship with both the elephants themselves and the local communities. ATE has always maintained a close and collaborative relationship with the Maasai communities who live in and around the Amboseli ecosystem. Community members help our team find the elephants, and inform us of any problems that may require our intervention or support.
This sense of Neighborhood between us, the elephants and the Maasai, is what inspired our Elatia Project [Click here] which we launched in 2015. The word 'elatia' means 'neighbour' in Maa (the language of the Maasai people). By joining the project, you become a neighbour to an elephant family, sharing the ups and downs that constitute elephant family life. Our data collection captures stories of friendship, competition and cooperation that make up what we lovingly call "elephant gossip". Elatia is our way of sharing those stories.